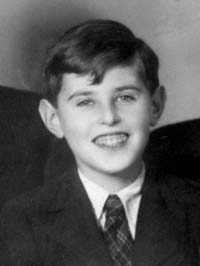 Petr Ginz (1928-1944) was one of the many child victims of the Holocaust. Born in a mixed Czech-Jewish family, he grew to be a precocious young man, writing his own novels, keeping himself informed about current events, and loving everything that was scientific. He was bilingual in Czech and Esperanto. His parents, after all, had met at an Esperanto Congress.
Petr Ginz would have been one of the many anonymous faces of the Holocaust, were it not for his diary. He kept a diary chronicling the looming anti-Jewish policies of the Third Reich in occupied Czechoslovakia for two years, between 1941 and 1942. His diary stops short when he is deported at the age of 14 to Theresienstadt. Two years later, in 1944, he is transported and taken to the gas chambers of Auschwitz.
---
The fact that Petr Ginz wrote a diary was known. His sister, Eva (later Chava) Pressburger knew about the diary, but it was apparently lost. What she had from her brother were poems and drawings.
It was a copy of such a drawing made by Petr Ginz that Israeli astronaut Ilan Ramon (אילן רמון), himself the son of Holocaust survivors, took at the request of Yad Vashem officials on the board of Columbia STS-107. It shows the Earth seen from the Moon.
Ilan Ramon and the crew of Columbia all perished on February-01, 2003 in their re-entry of the terrestrial atmosphere. You can see Ilan Ramon commemorated on this Israeli stamp of the year 2004.
An year later, in 2005, the Czech Post issues a sheet under the title of "Story of Drawing". It is an insolite combination of several topics, and without knowing the history behind it, it strikes as odd.
The drawing is identified with the title "Moon Landscape" and is made in Theresienstadt (Terezín). Petr Ginz is identified with a vignette photo and his years of birth and death.
Below, on the sheet, we can see the Columbia STS-107 spaceship. The bottom note gives the information that the drawing by Petr Ginz is now in the possession of the Yad Vashem Museum in Jerusalem.
---
A year later, in 2006, Petr Ginz's diary is found in an attic. His surviving sister identifies it as belonging to Petr and it is soon published in several languages (among which, in Esperanto).
Nowadays it is considered one of the key children diaries of the Holocaust, alongside Anne Frank's diary.
It is hard to tell if the interest in Petr Ginz's drawing, its subsequent flight in space, and the 2005 Czech Post issue have something to do with the finding after more than 60 years of the lost diary. I would like to believe they all do.